---
Revolver Magazine has contest to win a DW Signature Series snare drum and Golden Gods 2013 poster, both signed by
Stone Sour
drummer Roy Mayorga.
Enter here
.
---
Motley Crue
are supposedly
end-of-life in 2014 or 2015 so they can "go out on top."
Guitarist Mick Mars suffering from ankylosing spondylitis, a painful form of chronic arthritis, is probably a factor. But vocaist
Vince Neil
says they may release one more album, possibly a soundtrack for the movie adaption of their memoir, "The Dirt," and Vince plans to continue his solo career. Honestly, while Crue have put out decent material in recent years, nothing from Vince has impressed me since his first solo album, "Exposed." I think bassist Nikki Sixx wins the prize for staying relevant with
Sixx:A.M.
---
#nowplaying
The Amity Affliction
"Open Letter" … this song has one of the best choruses in the history of rock & metal, hands down. Every time it comes on
SXM
, I smile and crank it up!
"I'm not searching the sky for a reason to live,
Cause I found beauty right here and found the passion to give,
So let me give you my heart, let me give you my tears,
Let me give you my life, let me give you my fears."
---
#nowplaying
Corrosion Of Conformity
"Megalodon" (2012) … I've had this EP on my iPod since it was released, but finally got around to listening to it. As to be expected from this consistent leader of the Black Sabbath inspired stoner and doom genres, all five songs are raw, energetic, heavy, melodic, and just damn fun. In a field of artists that tend to sound the sound like they are playing the same riffs from song to song, COC somehow manage to sound even more fresh with each release, blazing a trail where other bands can merely attempt to follow. Five great songs, and
still available for free from Scion's AV site
.
---
#nowplaying
Consecration "Aux" (2008) … call it crossover prog, call it stoner, call it post-metal with vocals, but I just call it good. Good mix of melody and aggressiveness, clean and blackened vocals, and excellent guitars. Available as "name your price" so you have no excuse;
download it
!
---
#nowplaying
Cryptic Edifice "King's Lament" (2012) … labeled as a demo and released on cassette tape, this is melodic epic doom metal. The production is raw, the vocals are more akin to yelling to a crowd, but the songs are well written and the guitars are excellent. And it's
available as a"name your price" download
, so why the hell not?
---
#nowplaying
Chaos Lanes "EP" (2012) … modern metal with traditional death metal vocals alongside clean vocals, lots of keyboards, lots of melody, and lots of heavy groove.
Soilwork
would be a good comparison, just not executed to the caliber of that legendary band, but still worthy of blasting from your truck on the highway or main drag. Another "name your price" download, so there should be no hesitation.
Get it now
!
---
#nowplaying
Disforia "Our Time Defined" (2011) … progressive power-metal from Utah. As with most USA based prog-metal bands, the songs seem to strive for technical precision and the album is not as over-produced as most European power-metal. Nothing ground breaking here; just very solid execution. "Awakening" is my favorite track, with piano and more of a modern prog-rock feel. If you like symphonic metal with clean vocals and lots of keyboards, you'll like this album, no doubt. The musicianship is of high caliber. The vocalist has a unique, but welcoming tone. The lyrics have a solid storytelling quality to them. Yet another
"name your price" download
, so highly recommended.
---


Stumbled upon this… did you know that Legacy released a 63-disc "Complete Columbia Album Collection" CD boxed-set for Johnny Cash last year? Lots of material on CD for the very first time. And this is a lot of music for a great price, if you do the per disc math. Officially added to my wishlist.
---


Drinking on a budget? Here are supposedly the eight cheapest ways to get hammered (I'm assuming in the USA). And if you follow this frat-house poster, you're guaranteed to have a headache, if not hangover, the following morning! This is why I moderately consume quality whiskey.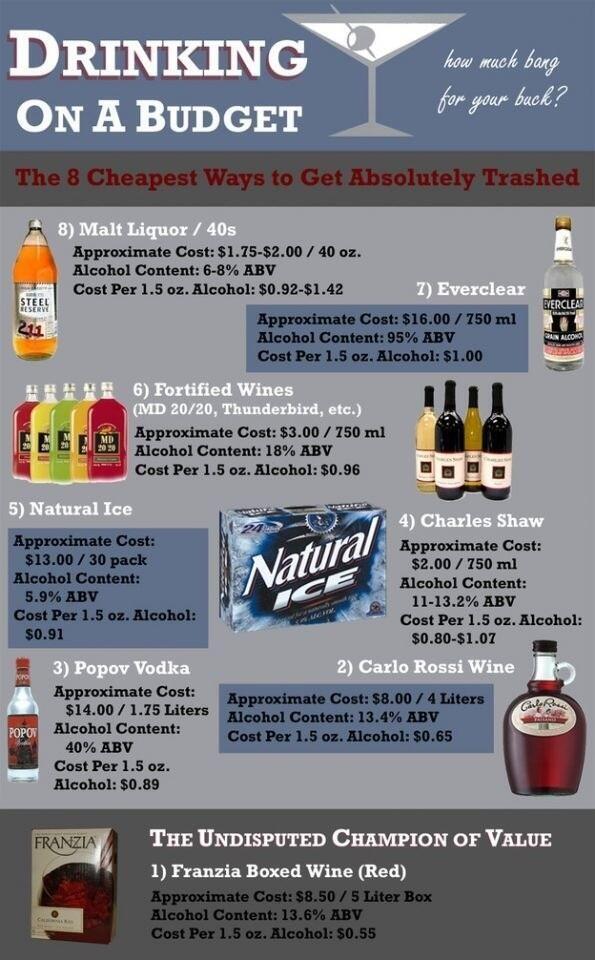 ---


[the end.]