Tuesday, February 11, 2014
---
Today's listening pleasure…
---
[the end.]
Thursday, January 30, 2014
---
It's been awhile since I've posted what albums I have been listening to, so here's the speed review…
#nowplaying Roine Stolt "The Flower King" … The album that started legendary neo-progressive band, The Flower Kings. There is a lot of magic to this album, and some of the songs are still the Roine and band's best. Easy to see how this helped fuel the prog-rock resurgence. But, I will say that there are later band albums that I prefer end to end and that have held up better over time.
#nowplaying Bullet For My Valentine "Fever" and "Temper Temper" … Two amazing albums with slightly different approaches to their sound, but still 100% BFMV. Love how this band combines classic thrash-metal riffs with modern glam-core vocals. Contemporaries are hard-pressed to match these hooks and melodies.
#nowplaying Egypt Central s/t and "White Rabbit" … Two great modern hard-rock albums with slightly different styles. Shame this band broke up.
#nowplaying Nasty Habit "Nasty Habit" … Modern hair-band trying to pull off the same cliché riffs and vocals in the today. Not horrible by any means, but not memorable.
#nowplaying Ninetails "Blue Bottle Flu" single, "Rawdon Fever" EP, and "Slept And Did Not Sleep" EP …
#nowplaying Christopher Franke "Babylon 5: Sleeping In The Light" … Easily my favorite soundtrack album. I loved the television series and I'm an Tangerine Dream fan, so it's only natural that I'd like Christopher Franke orchestrating a series of B5 soundtracks. And the B5 theme (slightly altered for each of the 5 seasons) really captured the drama of the show. Ironically, this episodic soundtrack doesn't contain the theme like all the others do. "Sleeping In The Light" was the series finale where Captain Sheridan joins the First Ones in the light. The episode didn't have battle-scenes or high drama, but was a perfect ending to the B5 saga and the love story with Delenn, and this soundtrack captures all that emotion. This is one of my "get in the zone at work" albums.
#nowplaying Circus Brimstone "Live – BrimStoned In…" … The Flower Kings live without vocals. How could you go wrong? These classic TFK songs minus the vocals are just as engaging.
#nowplaying James LaBrie "Static Impulse" … One of my favorite albums. Such an incredible return to glory for the Dream Theater vocalist.
#nowplaying Joe Satriani "The Extremist" … "Summer Song" is easily Satriani's best song ever and the entire album is engaging, but "The Extremist" is not my favorite Satriani album.
#nowplaying Widek "Aurora Borealis," "Multiverse," and "2010 Songs" … Instrumental djent done right. Couple vocals tracks thrown in for good measure, but the guitar riffage from this band grabs me every listen.
#nowplaying Bonnie Raitt "Souls Alike" … I have thoroughly enjoyed every one of her albums since "Nick Of Time," except this one. The first track is engaging enough, but the album just has no energy, no groove. It's like Bonnie was too tired to record an album. Real shame.
#nowplaying Stone Sour "House Of Gold & Bones, Part 2" … I have always liked Stone Sour. In fact, hearing Corey Taylor in Stone Sour made me go back and listen to Slipknot again. Still like Stone Sour better, but anyway… Corey's vocals are amazing on this two part release. Energized songs. Thought provoking lyrics. Strong recordings.
#nowplaying Bad English s/t … So the album has lost a little of its luster since its 1980s heyday, but still some incredible sing-along tracks here.
#nowplaying Badlands s/t … I was so excited when Adrenaline Mob recently covering "High Wire." This debut Badlands album was (and still is) amazing. The second album took them away from heavy melodies to a more bluesy sound, which was still solid; but after that, Badlands was never the same. RIP Ray Gillen.
#nowplaying Josh Groban "Closer" … Easily his best album, preceded by too traditional of a classic opera album and then followed by albums filled with opera masquerading as pop music. "Closer" is a masterpiece of melody and emotion.
#nowplaying Anglagard "Viljans Oga" … Considered the band that kick-started the modern prog-rock phenomena . And regardless of how sporadically they release studio albums, Anglagard are pure genius.
#nowplaying Adelita's Way s/t … Went back to this debut album after liking the more recent "" album. More pop, less edge, but still quality hard-rock.
#nowplaying Steven Patrick "Red Reign" … I was a huge fan of Holy Soldier, regardless of which vocalist. If you liked Holy Soldier's "Last Train" album, you'll love Steven Patrick's solo album. Soaring vocals over AOR hard-rock music; not too different in style from the first two solo albums from Michael Sweet (Stryper).
#nowplaying Anomaly s/t … Heavy but melodic prog-rock in the vein of Tiles and other progressive bands in the late 1990s and early 2000s that didn't know whether they were prog-rock or prog-metal. Amazing songs and introspective lyrics. Incredible Led Zeppelin cover track.
#nowplaying Dokken "Back For The Attack" … Such an epic album, considered by many to be their last relevant release. 60 minutes of music was a lot for a hair band album back in the day, often even by today's standards. And George Lynch was at his peak with impossibly catchy grooves laced with ridiculous solos and virtuoso.
#nowplaying Depeche Mode "Violator" … In the 1990s, I thought this album was the start of a new sound for the band; mach 3, if you will. But listening to it 23 years after its release, I realize that it's just the perfecting of what the band started on "Black Celebration." "Clean" is one of my favorite songs of all-time for its simplicity and emotion.
#nowplaying Taproot "Long Road Home" … This is a band that I rarely remember to listen to, even though I have most of their albums and even though I thoroughly enjoy all of Taproot's albums from end-to-end. Their first two albums were in-your-face and raw, but so well executed; heavy, but melodic, with the successful single "Poem" being the epitome of excellent songwriting. Every album after that has been enjoyable, but at the risk of trading in that intensity for more radio-friendly melody. If this was the first Taproot album I heard, I would consider this a great hard-rock album. But I want them to return to their more progressive emo-core roots.
#nowplaying Steve Vai "The Ultra Zone" … For the first five tracks, this is a Steve Vai album, not unlike his first two solo albums that took him out of David Lee Roth's shadow and into the limelight. Expect incredible guitar harmonies, weird guitar noises, and narrative voices on top of brilliantly simply melodies. But the rest of this album is a prog-rock gem with Steve dropping some excellent vocals. Who knew?
---
And today's listening pleasure…
---
[the end.]
Monday, August 26, 2013
---
---
An idiot at a
Melvins
concert
threw a bottle at Buzz Osbourne
, hitting him the chest. Osbourne unplugged his guitar and ended the show. Crowd members apprehended the perp and handing him over to security, who handed him over to police for arrest. See video of incident.
---
#nowplaying
The Flower Kings
"Flower Power: A Journey To The Hidden Corners Of Your Mind" (1999) … This 2-disc, 1 hour 40 minutes epic was my introduction to
Roine Stolt
and The Flower Kings, one of the albums that took me from the outskirts of prog-rock fandom to spending the next decade exploring as much as I could of the resurging genre. This is still one of my favorite studio albums from the band, with probably my favorite band line-up. One of the reasons I love this album is that the band really seemed to be channeling
Pink Floyd
on this album (another one of my all-time favorite bands). Incredible melodies, prog-rock mastery on the edge of psychedelic, amazing bass-guitar throughout, and soaring vocal harmonies. I'd never ask The Flower Kings to repeat the sound of this album, but if they wanted to release a "Flower Power" sequel to other hidden corners of my mind, I'd be all for it!
Sunday, August 25, 2013
---
#nowplaying
MD.45 "The Craving"
… the 2004 remastered reissue with Dave Mustaine rerecording vocals himself. Lee Ving (
Fear
) provided vocals for the original 1996 release of this album. I have to say, I bought the CD back then, listened to it once, and then never spun the disc again. I just couldn't get into Ving's vocals paired with Mustaine's departure from
Megadeth
's signature thrash. But with Mustaine executing vocals, the album sounds great. Several songs could pass off as Megadeth tunes, but for the more part, this is an alternative metal and hard-rock album.
Friday, August 23, 2013
---
#nowplaying
Enlighted "Time To Fly" (2009), featuring Thomas Vikstrom … awesome, and
available as free download
.
---
#nowplaying
Hell:On "Re:Born" (2011?) … I have no idea where I
downloaded this, but
it's traditional death-metal. The music is highly engaging, but the vocals have a little to be desired.
---
Metallica
will be performing a private concert for SXM subscribers at New York's Apollo Theater on September 21, 2013. And "Mandatory Metallica" will take over
SXM's Liquid Metal channel 40
on September 13 through October 6. All of this is part of Metallica's promotion engine for Metallica's "Through The Never" release in
IMAX theaters
.
---
Ultimate Classic Rock is giving away a copy of the new 6-disc Beach Boys boxed-set.
Enter here
.
---
Stryper
has a new album, "No More Hell To Pay," coming out in November this year. All four original members are present: vocalist Michael Sweet, guitarist Oz Fox, bassist Tim Gaines, and drummer Robert Sweet. Sounds promising.
---
Watched "Adjustment Bureau" last night. I get what the movie is about, and I liked the concept, but I felt like the story really didn't go anywhere. Would have been more interesting to me to condense the script to under one hour as the first half of the movie, and then have the second half explore David's and Elise's path after knowing what they have learned. On a side note,
Emily Blunt
is gorgeous.
---
If you
lunch box doubled as a portable microwave
, would you go out to lunch less during the workweek?
---
I usually order water when I go out to eat, and try not to drink during the day, but I do love me some bourbon or rye or Irish whiskey or rum with a splash of Coke Zero. After
reading this
, I may need to drink straight more often.
…followed by this scary headline: "
New Drug Mimics the Beneficial Effects of Exercise
." The Scripps Research Institute is testing drug SR9009 on mice and finding it increases metabolic activity leading to lean mice with larger muscles that can run longer distances, mimicking the effects of aerobic exercise. Nevermind that it will probably cause several types of cancel in humans!
---


Lastly, do you know how to tell the difference between a male and a female bell pepper? And did you know that the female pepper is sweeter?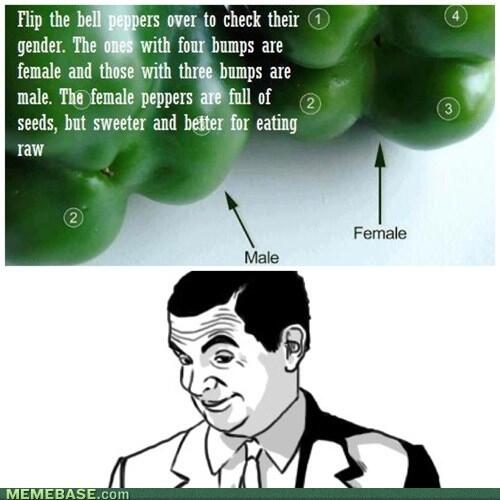 ---
[the end.]
Thursday, August 22, 2013
---
Revolver Magazine has contest to win a DW Signature Series snare drum and Golden Gods 2013 poster, both signed by
Stone Sour
drummer Roy Mayorga.
Enter here
.
---
Motley Crue
are supposedly
end-of-life in 2014 or 2015 so they can "go out on top."
Guitarist Mick Mars suffering from ankylosing spondylitis, a painful form of chronic arthritis, is probably a factor. But vocaist
Vince Neil
says they may release one more album, possibly a soundtrack for the movie adaption of their memoir, "The Dirt," and Vince plans to continue his solo career. Honestly, while Crue have put out decent material in recent years, nothing from Vince has impressed me since his first solo album, "Exposed." I think bassist Nikki Sixx wins the prize for staying relevant with
Sixx:A.M.
---
#nowplaying
The Amity Affliction
"Open Letter" … this song has one of the best choruses in the history of rock & metal, hands down. Every time it comes on
SXM
, I smile and crank it up!
"I'm not searching the sky for a reason to live,
Cause I found beauty right here and found the passion to give,
So let me give you my heart, let me give you my tears,
Let me give you my life, let me give you my fears."
---
#nowplaying
Corrosion Of Conformity
"Megalodon" (2012) … I've had this EP on my iPod since it was released, but finally got around to listening to it. As to be expected from this consistent leader of the Black Sabbath inspired stoner and doom genres, all five songs are raw, energetic, heavy, melodic, and just damn fun. In a field of artists that tend to sound the sound like they are playing the same riffs from song to song, COC somehow manage to sound even more fresh with each release, blazing a trail where other bands can merely attempt to follow. Five great songs, and
still available for free from Scion's AV site
.
---
#nowplaying
Consecration "Aux" (2008) … call it crossover prog, call it stoner, call it post-metal with vocals, but I just call it good. Good mix of melody and aggressiveness, clean and blackened vocals, and excellent guitars. Available as "name your price" so you have no excuse;
download it
!
---
#nowplaying
Cryptic Edifice "King's Lament" (2012) … labeled as a demo and released on cassette tape, this is melodic epic doom metal. The production is raw, the vocals are more akin to yelling to a crowd, but the songs are well written and the guitars are excellent. And it's
available as a"name your price" download
, so why the hell not?
---
#nowplaying
Chaos Lanes "EP" (2012) … modern metal with traditional death metal vocals alongside clean vocals, lots of keyboards, lots of melody, and lots of heavy groove.
Soilwork
would be a good comparison, just not executed to the caliber of that legendary band, but still worthy of blasting from your truck on the highway or main drag. Another "name your price" download, so there should be no hesitation.
Get it now
!
---
#nowplaying
Disforia "Our Time Defined" (2011) … progressive power-metal from Utah. As with most USA based prog-metal bands, the songs seem to strive for technical precision and the album is not as over-produced as most European power-metal. Nothing ground breaking here; just very solid execution. "Awakening" is my favorite track, with piano and more of a modern prog-rock feel. If you like symphonic metal with clean vocals and lots of keyboards, you'll like this album, no doubt. The musicianship is of high caliber. The vocalist has a unique, but welcoming tone. The lyrics have a solid storytelling quality to them. Yet another
"name your price" download
, so highly recommended.
---


Stumbled upon this… did you know that Legacy released a 63-disc "Complete Columbia Album Collection" CD boxed-set for Johnny Cash last year? Lots of material on CD for the very first time. And this is a lot of music for a great price, if you do the per disc math. Officially added to my wishlist.
---


Drinking on a budget? Here are supposedly the eight cheapest ways to get hammered (I'm assuming in the USA). And if you follow this frat-house poster, you're guaranteed to have a headache, if not hangover, the following morning! This is why I moderately consume quality whiskey.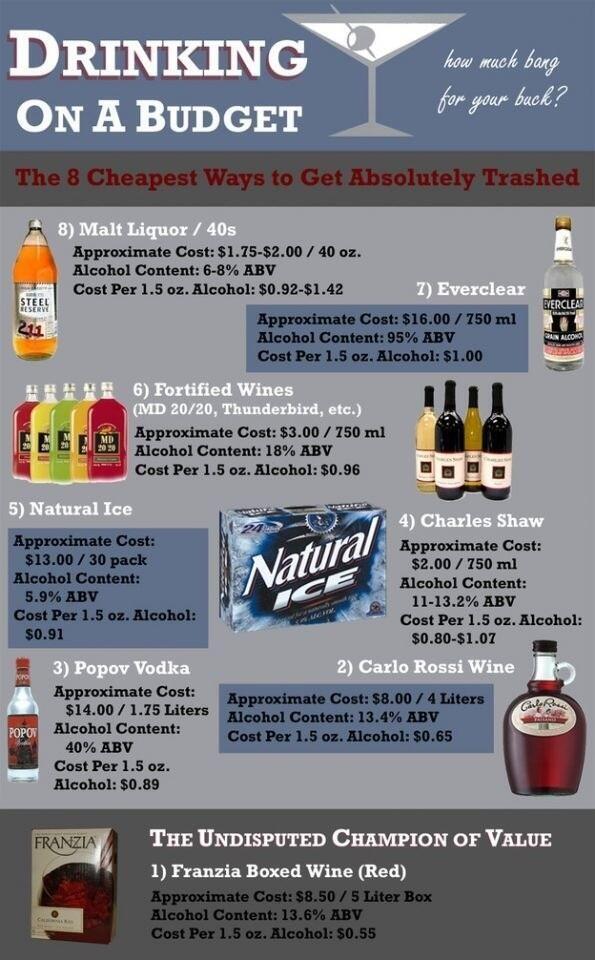 ---


[the end.]
Tuesday, August 20, 2013
---
#nowplaying
Device (2013) … finally listened to the full album from
Disturbed
vocalist David Draiman and
Filter
guitarist Geno Lenardo. Much more on the industrial metal side than Disturbed's melodic but heavy nu-metal. With Draiman's distinct voice and songwriting style, it's hard not to hear Disturbed in the mix, but that's nothing to fault this album with. The music is good, melodic, and with just enough heaviness; but the guitars and drums sometimes drown each other out in messy electronic fuzz, and the album losses steam after the halfway point. Maybe Clayton from
Celldweller
can help Device work out their sonic preciseness on the next album ... that would be an awesome guest appearance!
---
I didn't care for Draiman &
Lzzy Hale
's take on
Ozzy Osbourne
&
Lita Ford
's "Close My Eyes Forever" at first listen, but after a couple spins, I really appreciate what they've done with the classic song. And the list of other guest appearances are impressive and impactful to their respective songs:
Serj Tankian
(
System Of A Down
),
Geezer Butler
(
Black Sabbath
), Tom Morello (
Rage Against The Machine
,
Audioslave
,
The Nightwatchman
), M. Shadows (
Avenged Sevenfold
), and
Glenn Hughes
(everybody!). I'm a big fan of Draiman and Disturbed, so this album will certainly get repeat listens from me.
---
Was this album cover inspired by the Borg queen in the "
Star Trek: First Contact
" movie?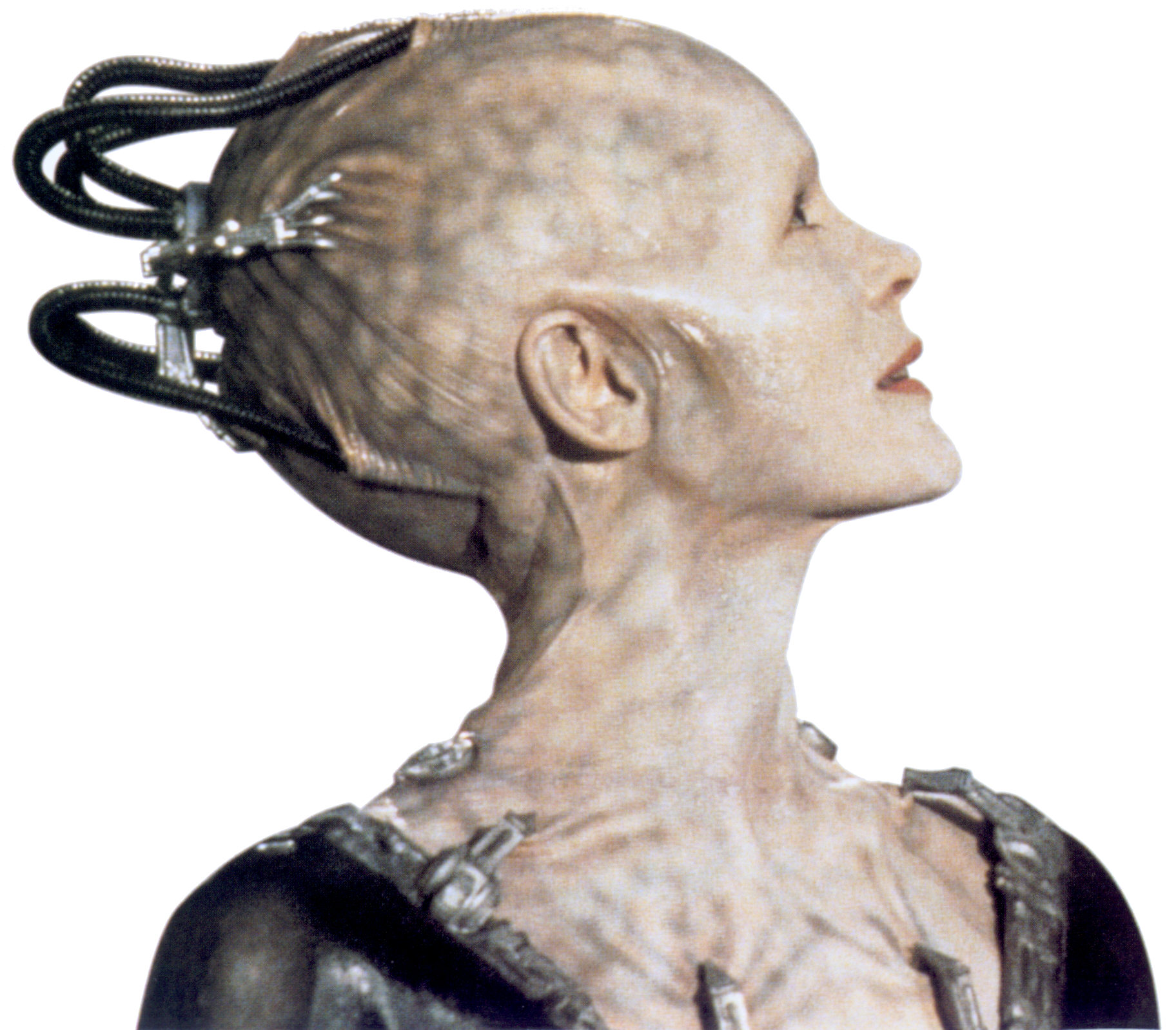 ---
#nowplaying
Arkham Witch "On Crom's Mountain" (2011) … lumped into the doom metal or stoner metal crowd, this album could have easily been recorded during the
NWOBHM
. But unlike many of the bands revisiting this sound today, Arkham Witch sound true and original, instead of cheesy, contrived, and boring. Amazing album from start to finish.
---
#nowplaying
Bakken "Death Of A Hero" … power-metal without the excessive keyboards, without the excessive studio production, and with normal vocals, instead of the high-pitched falsetto that began to plague this otherwise fine genre. I hear some
James Hetfield
in the vocals and an occasional classic
Judas Priest
in the guitar riffs. Bakken are not breaking new ground here or blowing my socks off, but this is a damn fun album to turn the volume up on. There's some cheese metal that seeps through every now and then, but I'm really enjoying this traditional heavy metal album.
---


Here's a story you ever want to experience first-hand…
…that was
Dokken
bassist Sean McNabb providing details on why their private jet the band was riding with
Ratt
on needed to make an emergency landing in Moline, IL (USA). Of course, they still made it to the show by hauling it in SUVs in Wauconda, IL.
---
God Forbid
have decided to disband after Doc Coyle removed himself from the band in an
open letter on his blog
. Doc's letter is worth reading. It's well written, sound in his reasons for leaving the band, and in no way burning bridges. I, for one, am eager to hear his next project. God Forbid had really expanded their sound in the last couple albums, and I hope Doc stretches things even further.
---
I'm sure you love, can't live without the technology we are blessed to have today, but damn this shit gets
expensive
. Nike expensive (pay $180 for shoes that cost $10 to product)! And all thanks to marketing budgets…
Text messages: Cost to consumer = $0.20 per text; Cost to produce = $0
HDMI cables: Cost to consumer for brand-name 8 ft. cable = $45; Cost to produce = $3
Smartphone devices: Cost to consumer for 16GB iPhone 5 = $549; Cost to produce = $200
Printer ink: Cost to consumer = $80 per ounce; Cost to produce = $10 per ounce
Wireless service: Cost to consumer for Verizon unlimited talk/10GB data plan = $100 per month; Cost to produce = $37 per month
Cloud storage: Cost to consumer for Carbonite Pro Business Premier = $1.20 per GB; Cost to produce = $0.10 per GB
---
Saw "Planes" at the
drive-thru
this past weekend. It's "
Cars
" reincarnated with planes and the same jokes. Entertaining kids movie, but "Cars" was better. And watched "The Love Letter" last night. Budget production, mediocre acting, and no character development beyond main character Helen, which is a shame because the story was original and entertaining.
---


[the end.]
Saturday, August 17, 2013
---
#nowplaying Worldengine "Dark Matters" … amazing crossover prog-rock from Brazil with male and female vocals, heavy darkness, but long atmospheric passages. This is the sound of modern progressive music. Did I mention that the album is "name your price"? So you have no excuse. Download it now!
---
Also #nowplaying Arida Vortex "Invisible Tension" … melodic power-metal from Russia. Typical gallop, falsetto vocals, keyboards, but some flamenco inspired jazz guitar thrown in here and there. Above average and well produced, and only $5 from Metalism Records.